Footsteps all the way
I dance, sing and play
in someone's footsteps
I follow the paths of rhythm
created by people
long before my time
I polish the pebbles of sounds
fresh and delightful
like children's voices
I water the shoots of melodies
have they been sown here?
'cause they seem to grow wild
I look for the footsteps
as eternal as the echo
as vibrant as life.
I run away
discover a new land
without any traces
I look back:
footsteps
all the way
 po śladach / in the footsteps / sur les traces
Janusz Prusinowski Kompania
musicians/musiciens
Janusz Prusinowski –  fiddle, voice, accordeon, double bass, basy / violon, chant, accordéon, le dulcimer, contrebasse, basse
Michał Żak –  wooden flute, shawm, clarinette, saxophone, basy, voice / flûte traversière, chalémie, clarinette, saxophone, basse, chant
Piotr Piszczatowski –  tambourine, baraban drum, voice / tympan, tambour, chant
Szczepan Pospieszalski –  trumpet, basy, voice / trompette, basse, chant
guest/ invité – Wojciech Pulcyn – double bass / contrebasse
recorded by / enregistrement : Jacek Gładkowski
production : Janusz Prusinowski
mastering: Michał Garstecki
painting / image : Andrzej Bieńkowski
graphic desigh by / design graphique : Black Hen
translated by / traductions : Agnieszka Wilga, Ewa Rdzanek
published by / éditeur : Słuchaj Uchem / Buda Musique
"If someone told me twenty years ago that I would ever enjoy listening to folk music, I'd just snigger. Today, a large part of my life is filled with the vibrancy of ethnic sounds, the hypnotic rhythm and spontaneous, trancelike tunes – I place them somewhere between punk, jazz and indie rock. I could say that folk music took over my mind and my heart by storm.
And it all started with the vocalist Maniucha Bikont saying that we absolutely must invite Janusz Prusinowski and his band to the shooting of the wedding scene for my Volhynia film. I followed her advice and now I know why she said that. Very few artists are able to dive so deeply into the world of their old teachers, render the spirit of the original and enhance it with a new, unique quality."
Wojtek Smarzowski
1. OBEREK FROM PIOTR GACA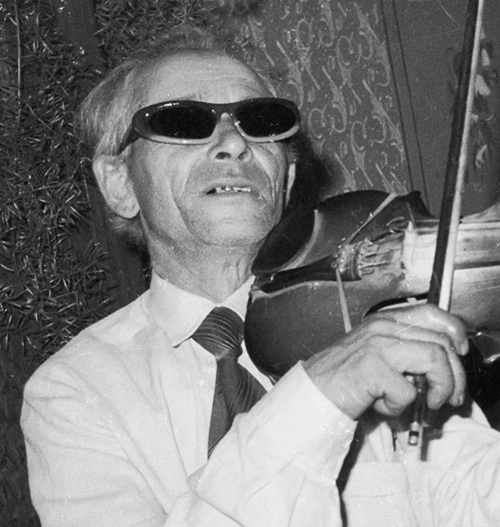 This continuous oberek, in the footsteps of Piotr Gaca, is often sung as well. For many years, I played another variant of this tune, which I learnt from Jan Ciarkowski, and its second part was completely different. It turned out, however, that in the village of Gałki Rusinowskie, Ciarkowski's melody is entirely unknown, while Gaca's version is frequently sung by many (e.g. by Maria Siwiec). The second part, where the sound of the fiddle should break a little, is especially popular.
2. ACTUALLY ("WHO AM I?")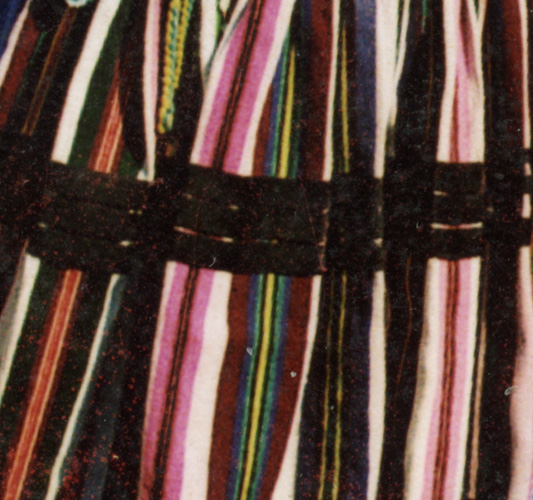 This melody comes from Maria Siwiec from Gałki Rusinowskie and is one of her favourite continuous obereks. The lyrics come from a poem by Julian Tuwim, from The Dancing Socrates collection.
3. MY DEAR GOD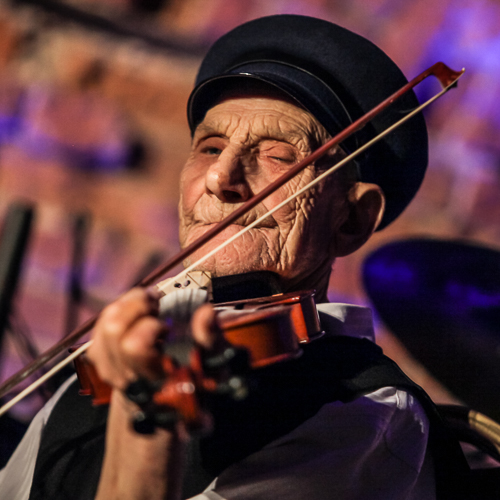 The first melody is an oberek in the footsteps of Wanda Osińska. I learnt it from Maciej Żurek, who took it over from Jan Gaca. We recorded this oberek with Maciej and his friends for the CD 3 x Gace – Uczniowie. Back then, the combination of songs formed a kind of laddish love story. Our present selection also moves towards love, but by a different route.
The second melody is a mazur from Jan Gaca (it is also played by Kapela Niwińskich).
Oh, my dear God, are you there in heaven,
Do these pleas of mine ever reach you there?
Down the village road walked a girl with a prayer
That she'd finally meet some boy, even one that's lame.
Oh, my life's so hard, I didn't sow the land,
So the girl I love shouldn't work too hard.
In the dark hall, on a ladder, a black cockerel perched,
I would kiss your lips if they remained sealed.
I would kiss your lips if they remained sealed,
Let it be our little secret, and let no one know it.
There was I, there was I, knee-deep in heaven,
But it was for you, my dear, that I did return.
Oh, my heart splits in two, in two halves it breaks,
One half cries in sorrow, but the other is joyous.
4. THE ACKERMAN STEPPE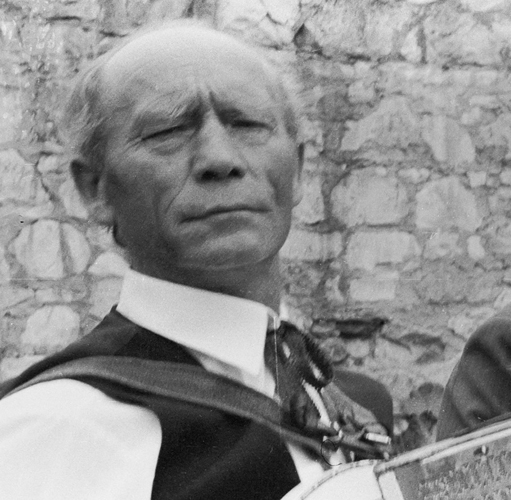 This poem by the Romantic poet Adam Mickiewicz, from his famous collection Sonnets from the Crimea (1899), is widely known in Poland. I hope that the melody of the powiślak from Franciszek Grębski can carry the delicate texture of the poet's lyrics. We once got to Franciszek Grębski's house at a late hour, and the evening turned out to be so pretty and full of music that we decided to stay there overnight. The next day, in full sunshine, we discovered that our host's house stood on what used to be the bed of the Vistula river, surrounded by huge willows. As I sing this "peasant sonnet", I envision two landscapes merging and reflected in one another:  one from the poem and one from the melody.
Across sea-meadows measureless I go,
⁠My wagon sinking under grass so tall
The flowery petals in foam on me fall,
⁠And blossom-isles float by I do not know.
No pathway can the deepening twilight show;
⁠I seek the beckoning stars which sailors call,
And watch the clouds. What lies there brightening all?
⁠The Dneister's, the steppe-ocean's evening glow!
The silence! I can hear far flight of cranes—
⁠So far the eyes of eagle could not reach—
And bees and blossoms speaking each to each;
The serpent slipping adown grassy lanes;
From my far home if word could come to me!—
⁠Yet none will come. On, o'er the meadow-sea!
(translated by Edna W. Underwood)
5. STEPPES
The same tune from Franciszek Grębski, but played a little differently this time, with a more steppe-like quality.
6. OBEREK FOR MARYSIA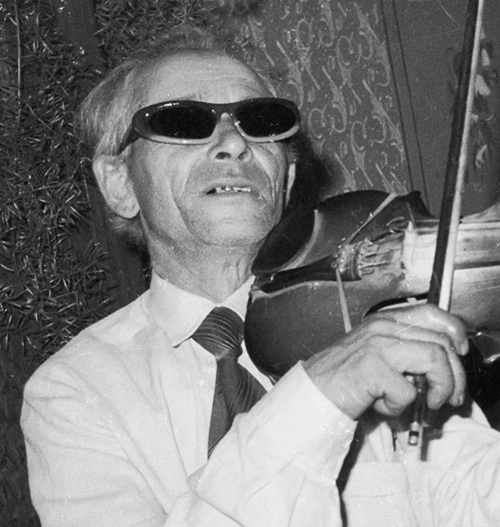 In the footsteps of Piotr Gaca, this is a mazur and an oberek combined in one piece. I recorded the first melody back in 2000, when Piotr Gaca took me along to meet another fantastic fiddler (and his neighbour from Rdzów) Jan Ciarkowski – in order to play music together. After playing, he sang a bawdy little song: "Got it, Mary? / Yes, I do! / Give it, Mary? / Yes, to you! ? People got it, so do I. / People give it, why not I?" The other piece is, according to Piotr Gaca, "just an oberek". If played with a regular bow, it would sound rich and even, but not particularly interesting; however, if the sounds are bowed in groups, they form an unusual rhythmical structure which seems to go against the grain. Piotr loved combining mazureks and obereks in long continuous stretches. I suppose he would say here that it would be better to play several shorter obereks, but for me, these two are more than enough.
7. RAINY
This song comes from Zofia Wojnicka, whose historic recordings from the region of Kujawy are archived at the Institute of Art (Polish Academy of Sciences). I was introduced to them by Justyna Piernik, while we were working together on a project connected with the music of Kujawy. Zofia Wojnicka sings the lyrics, but we wanted to check whether the song could be played instrumentally, as a kujawiak. When we got this piece together and it flowed for the first time, it was raining. In my memory, the rain plays a part in this song.
I wandered and travelled, stopped at an inn.
Had just a penny, but drank and revelled all night.
Paid a penny for a candle, the other for the band
And one more was left for the horse's hay
For the horse's hay, for a pretty girl,
Oh, for the fiddler's strings, for my girl's sweet tunes
8. MAZUREK FROM MICHAŁ RYDZ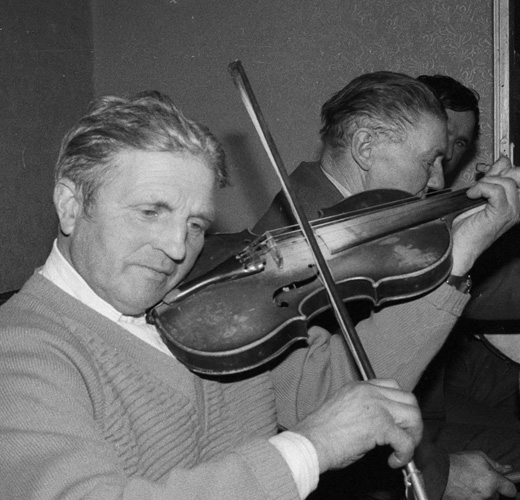 This is a mazurek in the footsteps of Michał Rydz, whom I never met in person. Among some recordings from the region of Rawskie (on one of Andrzej Bieńkowski's tapes), I heard the band of Michał Rydz. It sounded like music from a remote Asian land, I could not make out the melody or the rhythm. There was something primordial in it, as if linking the simple joy of music-making with some ancient ritual.
9. POWOLNIAK
Although the name of this dance is based on the Polish word for "slow" ("powolny"), it is one of the fastest and the most difficult dances I know. It comes from Stanisław Pawelczyk from the village of Wolkowe (the Kurpie region). His recordings can be found in the archives of the Institute of Art (Polish Academy of Sciences). In addition to the irony of the name, it is also surprising that it is in triple time and the steps resemble those used for the Swedish dance called polska.
There are very few historic recordings of fiddle music from the region of Kurpie. Stanisław Pawelczyk plays very fast, but also with great precision. His recordings breathed new life into our vision of Kurpie music, as this way of playing music is now gone.
10. DEER'S HORNS
Here we have a wyrywas in the footsteps of Stanisław Lipiński, Kasia Zedel and Kasia Rosik. At the folk music summer camp in Sędek, Kasia Rosik (an eager student of frame drum techniques) asked me to accompany her on the fiddle during her workshop for advanced drummers. The starting point was a film she recorded, where Stanisław Lipiński – a fantastic drummer, dancer and singer from Kłudno – beats the drum virtuoso-style and shouts the words of one couplet after another, while Kasia Zedel plays the tune on her fiddle. The recording is delightful – it has everything that I think music-making is about: the energy, the freedom, the rhythmic playfulness, the humour, the originality. I met Stanisław Lipiński back in the nineties, when he played at dances organized by the House of Dance in Warsaw, in the band of Stanisław Stępniak – the most outstanding accordion player from the Opoczno region. Lipiński's drum parts were just as amazing as Stępniak's accordion parts; together with the fiddler Augustyn Szymański, their music-making was extraordinary. But Stanisław Lipiński often preferred dancing to beating the drum. And he danced just as he played music: with lots of ornamentation, sudden stops, shifts and whatnot – but at the same time, his dancing was always light and modest. Simply a master.
Gradually, I somehow managed to work out the fiddle part. When we started to sing the couplets taken from Stanisław Lipiński, we had tremendous fun, and it turned out that the music just plays itself, and we couldn't stop ourselves from going on and on and on…
Oh, how I liked the deer's long horns
The hare's long ears, and the girl's long legs
Oh, how I liked the girl's boobies
If it weren't for the boobies, I'd never get married
All the horses are pretty, but the white one's best
It crossed the lake, but his mane stayed dry
Go across the woods, boys, where the music's playing,
See the pretty maidens that are oh so charming.
Oh, the fiddle is chattering and the drum is pounding
And my love is so sad that her heart is crying
Oh, my heart splits in two, in two halves it breaks,
One half cries in sorrow, but the other is merry.
11. POWIŚLAK FROM GRĘBSKI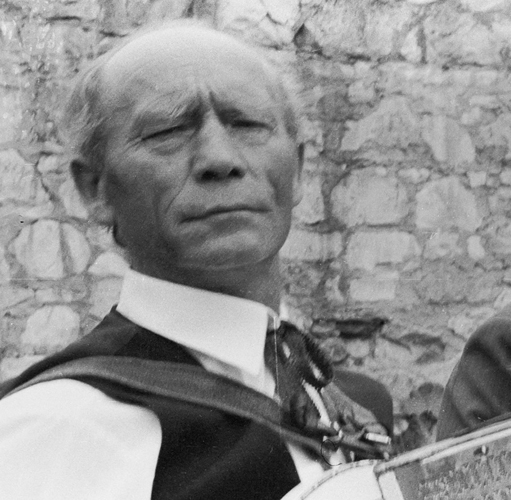 A powiślak from Franciszek Grębski –  the same melody that appeared in The Ackerman Steppe and Steppes, but played more Grębski-style this time.
12. RYTKA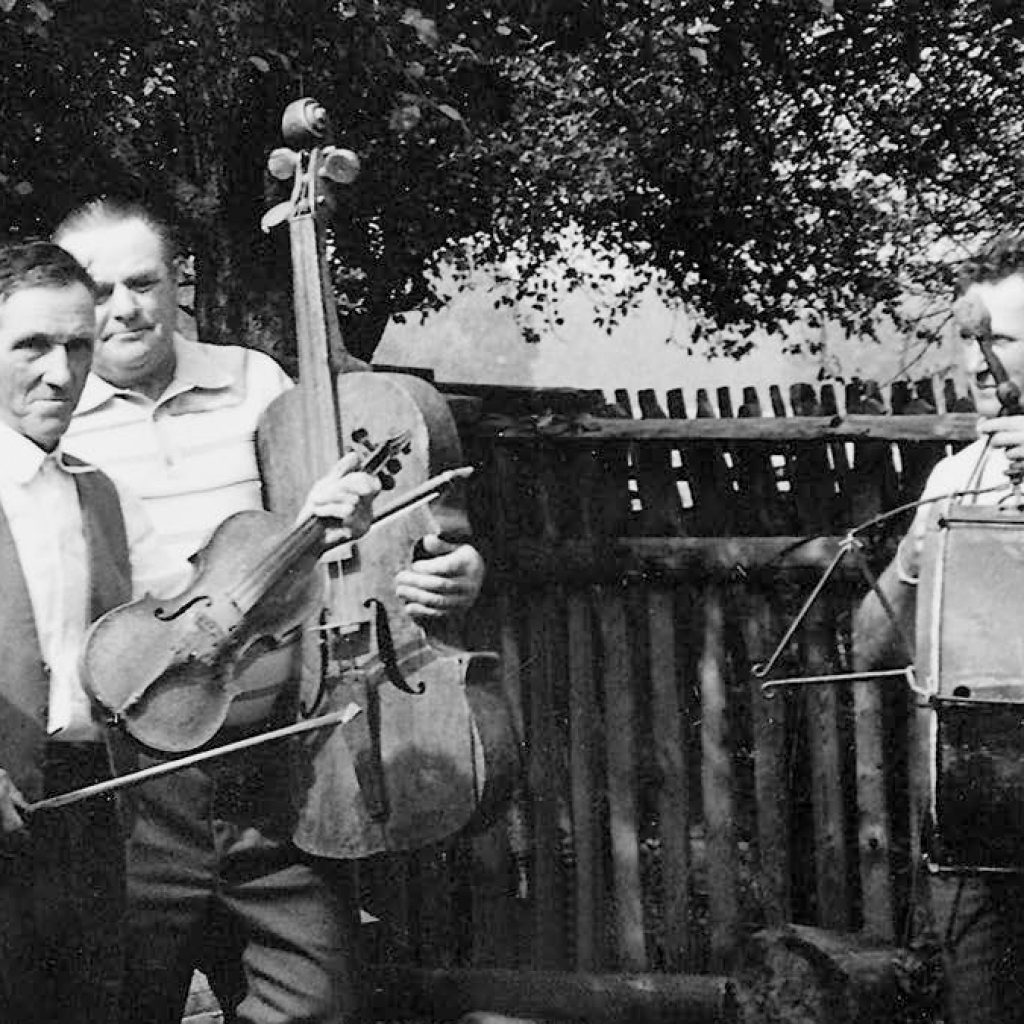 This oberek comes from the Józef Fiderek band from Kraśnica. Before CDs became popular, we used tapes and listened to field recordings from the collection of Andrzej Bieńkowski. He first gave us a tape with music from his film, The Last Village Musicians. The second side of the tape started with the recording of Rytka. The hieratic sound of the band, the regular drum beat, the monotonous rumble of the basetla, the ostinato melody – it was all very repetitive, but at the same time so full of emotion that we never got tired of listening to it. And then there was the chanting: woee, woee, woee.
13. I'LL SLEEP HERE
This song comes from Zofia Wojnicka and can be found among the recordings archived at the Institute of Art (Polish Academy of Sciences).
14. POLONAISE FROM MICHAŁ RUBIN
This is a traditional walking dance (a polonaise or chodzony), in the footsteps of Michał Rubin (born 1903), a fiddler who was a major contributor to Folk Tunes of North Mazovia by Tadeusz Kiszczak, one of the few books documenting the music from around Mława, my hometown.
15. KUJON FROM DOBRZELIN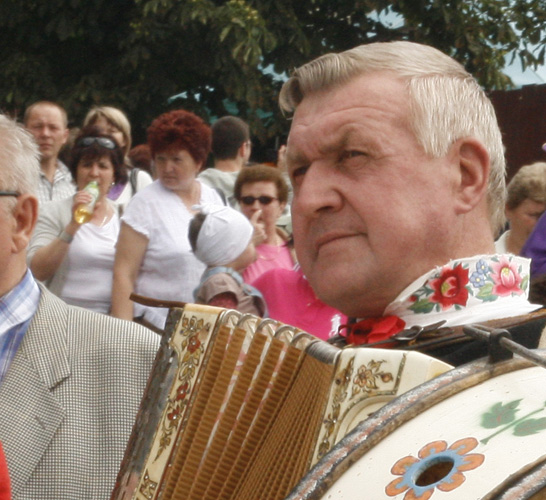 This kujon comes from Sławomir Czekalski and his band Dobrzeliniacy. Sławomir learnt this tune from Jan Bilski, a tremendous fiddler, who in turn learnt it from Józef Radzymiński, a legendary accordion player from Łowicz. This year is the fortieth anniversary of the Dobrzeliniacy band. We dedicate this recording to them, with many thanks for their music.
6. OBEREK FROM STANISŁAW PAWELCZYK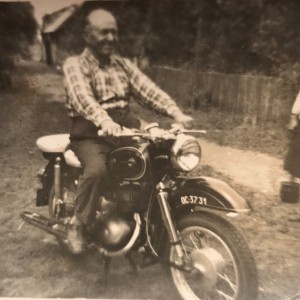 In the footsteps of Stanisław Pawelczyk from Wolkowe in the Kurpie region, this oberek comes from the 1950s, and can be found among the historic recordings of the Institute of Art (Polish Academy of Sciences).
Soon after we uploaded this piece onto our website, we were contacted by Joanna Turek, who also comes from Wolkowe. As it turned out, when she asked the elderly residents of the village about Stanisław, they remembered him very well. After one of her visits, Joanna wrote:
"Those people take great joy in searching through memories… For example: Stanisław played solo at dances, just the fiddle, no other instruments. Only one of his daughters is alive, I'm going to meet her between Christmas and New Year's Eve, I hope she has some photos". Another visit: "Just as I thought, grandpa remembers Stanisław's band very well. Apparently, the news of who was going to play at the wedding was as important as the info of who was getting married. His band comprised the fiddle, two pedal accordions, a trumpet and something resembling a percussion set. All the band members came from the Wolkowe village. To my surprise, I even managed to find a photo of the whole band! I'm following in their footsteps! It was amazing to encourage those elderly people to search through their long-forgotten memories. I now know the names of the men in the last photo: Władysław Dąbkowski (trumpet), Stanisław Pawelczyk (fiddle), the brothers Władysław and Czesław Samsel (pedal accordions), Ignacy Siok (percussion)".
A moving story, isn't it? Thank you, Joanna, we are very happy to learn about the footsteps you have found.





17. GO AWAY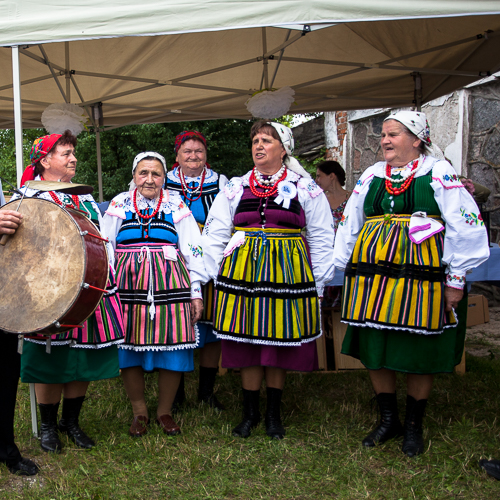 A wedding song in the footsteps of the singers from Gałki Rusinowskie. We learnt it from Maria Siwiec. At first, we didn't get the second stanza right, and we recorded it in our own way. The lyrics actually go like this:
Go away, Mary, go away,
Toss your ribbons to the trees, don your cap.
Not yet with that cap, not yet
Put it on the bench, Mary, on the bench.
Almost there with your cap, almost there
You'll have it on your head, Mary, on your head.
18. WHERE IS THIS LOVE
This melody came to me a long time ago, back in the 1990s. I always associated it with the words from the poem Ludzie by Tadeusz Nowak: "Where is this love that wanders unpunished?". At the time, it was just a chorus that is repeated again and again and back then, I didn't know the whole poem or Marek Grechuta's song that incorporates it. We made some slight changes to the lyrics. The tune gradually evolved into a waltz, and we played it at many special occasions. We dedicate it to all the people looking for love.
The whole poem by Tadeusz Nowak is still very much resonant. These are also the footsteps that we follow.